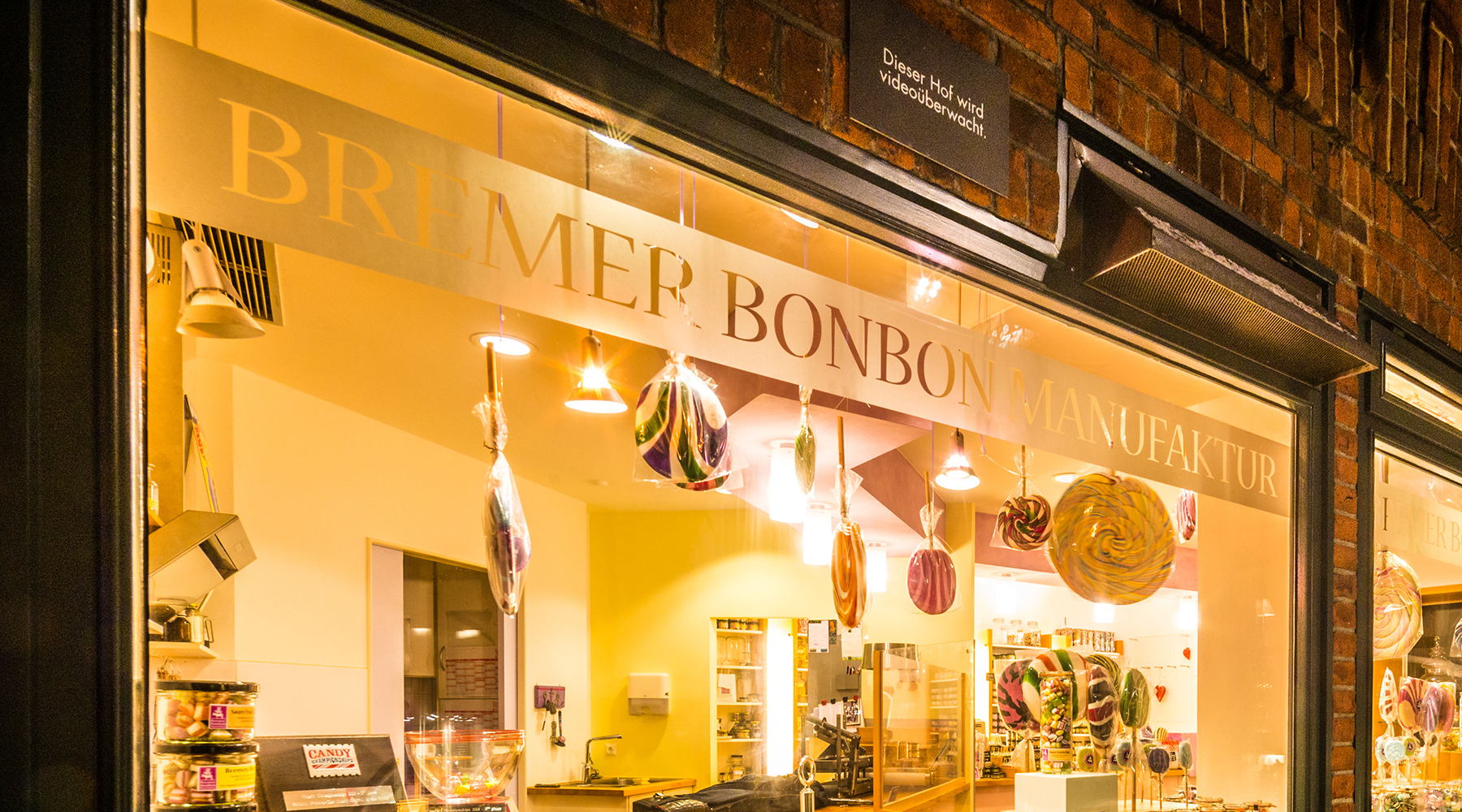 We are happy to welcome you
Visit our two shops in the heart of Bremen
Note for online shoppers
We offer a wide selection of our most popular flavors online. However, shipping is limited to German addresses only.
Our Manufactory in the heart of Bremen
Right in the middle of Böttcherstraße, in the city center of Bremen, is an inner courtyard, where you can find our cute candy shop. Here we manufacture colorful hard candy and lollipops with many different flavors and in many different shapes. You can watch us cooking, pulling and pressing sweets or browse through our wide selection. We offer over 100 flavors – from fruity to hot, from unicolored to striped.
Handcrafted candy
Candy making is an almost forgotten craft, that requires imagination, strength, perseverance and especially artisanship. Therefore we have specially trained confectioners, who ensure constant supply in our manufactory. During opening hours our visitors are able to experience how pulled candies are made in a traditional way and have the opportunity to try the freshly made sweets.
The entire process depends on the right temperature and the careful handling of the hot, viscous sugar mixture. After colors and flavors have been added, it is time for the kneading and pulling using a hook on the wall. We do this to incorporate tiny air bubbles into the mass so the candies get an opaque appearance. Slim, long strands of the "dough" are then put into a historic Danish candy press and cut into small pieces shaped like tiny pillows. Now they are ready for store shelves, where you can select your favorites from a wide variety of flavors and take them home.
Böttcherstraße | Bremen's architectural gem
A very unique and popular sight in the historic center of Bremen is the Böttcherstraße as the alleyway unfolds its special charm to every visitor. It contains exposed brick buildings with arts and crafts workshops, restaurants, art museums and cute shops. The narrow street links the market square with the Weser river. It got its name from coopers (in German Böttcher) who formerly inhabited the street und carried out their trade here.